July 29
Familiarity of collectives.
Friendly concert for discussion with foreign choreographer. For groups out of competition.
Evening peformance.
July 30
Rehearsal
Master class (with extra application)
July 31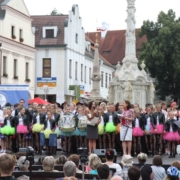 Competition by categories and nominations of groups participating in the competition.
Competitive Gala concert on the central square of the UNESCO city monument.
August 1
Discover the culture of the South Bohemia
Concert for the main prizes and grants on the central square of the city of UNESCO.
Departure to Italy (night transfer)
August 2
Arrival to Italy
Possible excursion to Venice for extra fee (excursion may be included in the price with early application)
Accommodation in Rimini
August 3
Free time for shoping and relax on the beach in Rimini
August 4 end of the minimal festival program
Discussing performances for groups
Gala Concert. Presentation of prizes and grants in the historic center of the resort Rimini
Sightseeing and excursions * (Verona, San Marino, Amusement parks)
Departure to the border or to the airport
* – Optional service for an additional fee.